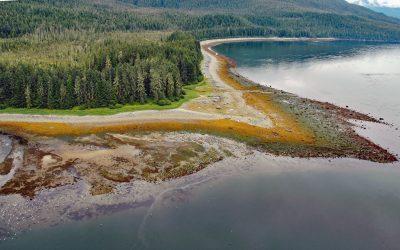 Sumdum is a historical Tlingit village of the S'awdaan Kwáan located north of Powers Creek at the northern end of Endicott Arm where it meets Holkham Bay in Tracy Arm-Fords Terror Wilderness, about 70 miles (113 km) north-northwest of Petersburg and 49 miles (79 km) southeast of Juneau, Alaska.
About the background graphic
This 'warming stripe' graphic is a visual representation of the change in global temperature from 1850 (top) to 2021 (bottom). Each stripe represents the average global temperature for one year. The average temperature from 1971-2000 is set as the boundary between blue and red. The color scale goes from -0.7°C to +0.7°C. The data are from the UK Met Office HadCRUT4.6 dataset. 
Credit: Professor Ed Hawkins (University of Reading). Click here for more information about the #warmingstripes.