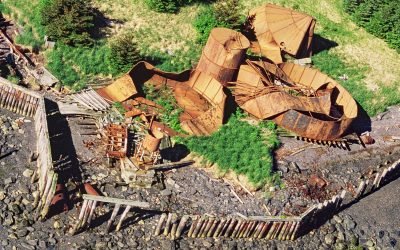 Port Wakefield is an abandoned cannery on the east coast of Raspberry Island, about 30 miles (48 km) northwest of Kodiak and 14 miles (23 km) north-northwest of Port Lions, Alaska.
About the background graphic
This 'warming stripe' graphic is a visual representation of the change in global temperature from 1850 (top) to 2019 (bottom). Each stripe represents the average global temperature for one year. The average temperature from 1971-2000 is set as the boundary between blue and red. The colour scale goes from -0.7°C to +0.7°C. The data are from the UK Met Office HadCRUT4.6 dataset. 
Click here for more information about the #warmingstripes.