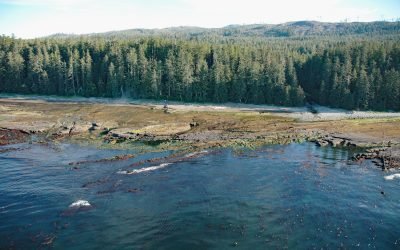 Michigan Creek starts at an elevation of 1400 feet (427 m) and flows generally south for 4 miles (6.4 km) through the coast mountains on Vancouver Island and enters the Pacific Ocean in the Pacific Rim National Park Reserve 1 mile (1.6 km) east of the Pachena Point Light Station, about 81 miles (130 km) west-northwest of Victoria and 8.5 miles (14 km) southeast of Bamfield, British Columbia.
About the background graphic
This 'warming stripe' graphic is a visual representation of the change in global temperature from 1850 (top) to 2019 (bottom). Each stripe represents the average global temperature for one year. The average temperature from 1971-2000 is set as the boundary between blue and red. The colour scale goes from -0.7°C to +0.7°C. The data are from the UK Met Office HadCRUT4.6 dataset. 
Click here for more information about the #warmingstripes.